(Last Updated On: October 9, 2021)
American Paint Horse is not a pure horse breed, rather, it is a merge of two other popular species, the conceptual features of Western stock horses and the white and dark coat colored spots. This is a popular horse breed for its good personality, unique features, fast speed, performance, and manifold utilities.
This article will be sharing some useful information about American Paint Horse.
American Paint Horse History
American Paint Horse has a very long, unique, and fascinating history. It is estimated that the spotted Oriental horses were brought to Spain about 500 AD from Eurasia and were bred there with native horses.
That breed continued to expand in Spain, and it began to appear today as the standard paint horse. The spotted horses that have Ovaro and Tobiano patterns are just like those modern American paint horses.
Experts believe that American paint horses were descendants of horses that the Spanish conquerors brought to the first new world in the 1500s, especially Hernando Cortes. He brought a total of 3 warhorses, and one of them was a true white pinto.
Population and growth
Due to its overall performance and body language, American Paint Horses are considered one of the fastest-growing horse breeds in the world.
The horses that were the descendants of this stallion eventually crossed the western plains of the country and joined the wild horse herds that live in the western part of the United States.
There, Native Americans began to respect their animals for their unique patterns, grandeur, patience, beauty, temperament, personality, and energy.
They were even used by a number of plains tribes, who are quite fond of these unique, charming, and friendly horses. The American Paint Horse Association has listed about 800,000 horses.
American Paint Horse Registrations
With Quarter Horse and Thoroughbred Bloodline, the American Paint Horse Association (APHA) Breed Registry, developed this particular breed. It is now one of the largest and popular horse breeds in entire North America.
"Solid Paint-Bred"
The horse breed is able to participate in some recognized paint breeds shows and is offered alternatives and in the registry for Solid Paint-bred horses. This is encouraging there are many incentives upon showing great performance of colors.
American Paint Horse Color
Each paint horse has a specific combination of different colors on the white and equine spectrum. Black, bay, brown, and white are the most common colors in horses with white spots combined with chestnut or sorrel. These Horses are not commonly seen with spot colors, such as Palomino, Boxkin, Cremelo, Perlino, pearl, or "blink factor" and champagne. However, with various shades, the breed can create spots that eventually become faded with white hair.
The spots of the horse can be of any size or shape, anywhere on the body, other than the complex patterning of the leopard. In fact, the spots are similar to Appalausa. Whatever the color difference is, they are patterned into defined coat patterns: Ovaro (frame, splash, and Sabino included), Tobiano, Tovero, and splash white.
The horses display beautiful shades, such as
Rune

Gravy

Cereal

Groolo

Palomino

Buckskin

Aged brown

Brown

Black

Bay
Conditions for color patterns
Tobiano: The most common spotting pattern, dry and marked in the dock of the tail with white round markings with white legs on the back, usually arranged in a nearly vertical pattern and more white than dark, with the head usually dark and with a common horselike mark. That is, they snip, strip or shine.
Ovaro: A horizontal tendency characterized by sharp, irregular markings with a number of spotting patterns, usually darker than white, though the face is usually white, sometimes with blue eyes. The white rarely crosses the rear, and the lower legs are usually dark. The APHA recognizes three overarching patterns:
Frame: The most well-known Ovaro pattern, the gene for the frame has been genetically mapped and homogenized, resulting in lethal white syndrome (LWS). Visually marked frames have no health defects associated with the color and are characterized by rugged, sharp white patches around the body, leaving a "frame" of non-white paint that usually includes the topline.
Sabino: Often confused with Ron or Rabikano, Sabino is a lightly stained pattern that is marked by white marks on the legs, abdominal spots, white eye spots in front of the eyes, and/or stand-alone patches or white markings.
Splash White: The most common spotting pattern, splashing whites usually have blue eyes and glossy, smooth, block white marks that almost always include the head and legs. The tail is often white or white, and the body marks are produced on the bottom of the abdomen and extend "upwards."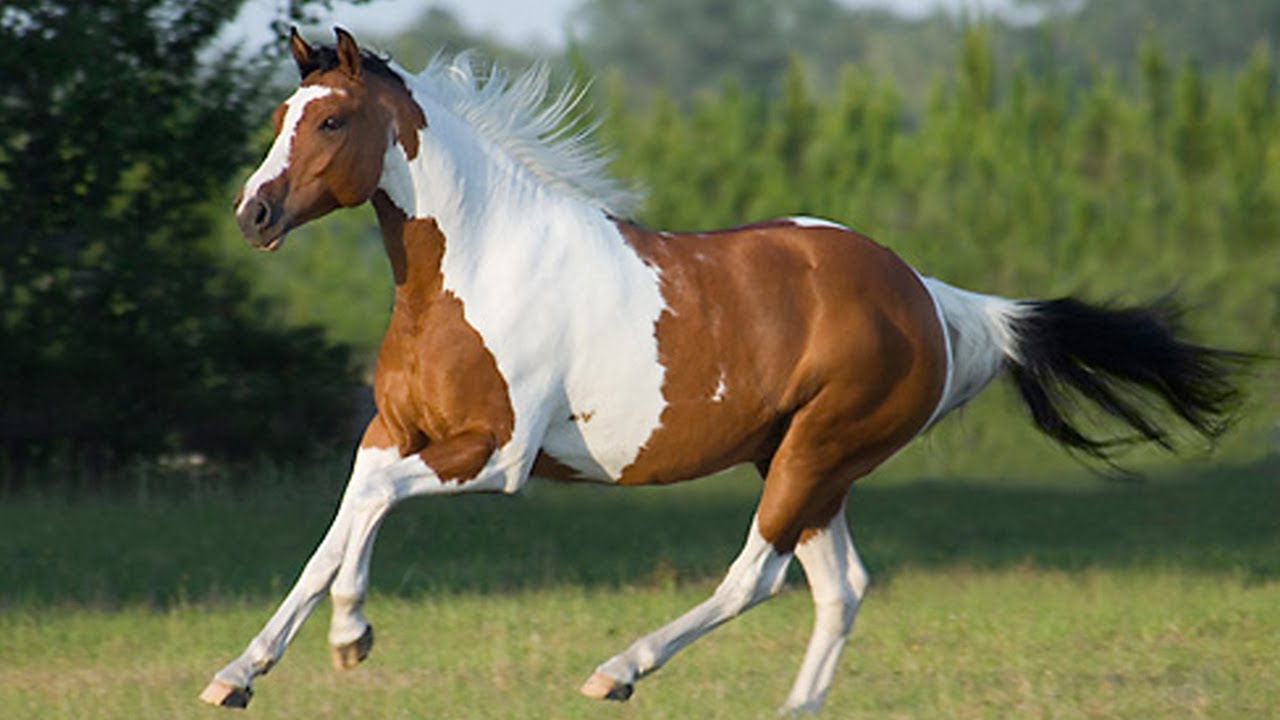 Genetic Issue
One medical issue associated with breeding is the Genetic Disease Lethal White Syndrome (LWS). Called Ovaro Lethal White Syndrome (OLWS) or often White Foal Syndrome (WFS), it is associated with a recessive gene that is related to the frame's Overo pattern.
American Paint Horse Lifetime
With proper care and in a healthy environment, the horse can live up to 31 years
Behavior
The breed is quite Intelligent, willing, lovable, calm, easy to train and work with, friendly, social, layered
Comparable Breed
This breed is easily comparable to Pinto Horse and American Quarter Horse because of their affinity in temperament, attitude, physical pattern, and speed.
American Paint Horse Characteristics
With its 1,150 lbs of average weight, American Paint Horses Are very friendly and popular as social animals. The breed can be a great companion for any rider, trainer, and caretaker who loves to pass time with horses.
The horse is considered the perfect blend of athleticism and beauty. The breed is quite relaxed, easy to manage, and easy to train so that anyone can find peacekeeping it as a pet.
The horse loves competing for other breeds, as well as advancing on open riding trails. It is loyal and has a high desire to please its owners and drivers.
This is a multi-talented animal that can easily perform different tasks. It can be used as a workhorse, by assigning various tasks such as racing, general riding, jumping, dressage, and more.
Overall description
American paint horses are friendly and known as social animals.
American Paint Horse is unique and distinctive with its white markings that will vary in size even though these horses' patterns are standard. In fact, the two main patterns are Tobiano and Overo, which are distinguished by the white spot on the animal's body.
These horses are strong, vigorous, and fast, and demonstrate their muscular, wide chest, gravity, and personality.
American Paint Horse Unique Foot and Face Marks
In addition to the colors and patterns of the coat of American Paint Horse, the breed also has distinctive foot and face marks that make them unique from other breeds.
The marks include
Dorsal Stripe,

Flexen,

Rowan,

Zebra Stripe,

Transverse Stripe,

Blaze,

Tuck Face,

Star, Snip,

Star and Snipe,

Coronet, Pastor,

Half-Puster,

Sock,

Ankle,

Stocking,

Half-Stocking and Star,

Strip and snip
American Paint Horse Grooming 
Regular grooming is required to maintain the beauty and health of the American Paint Horse.
Like all other horse breeds, American Paint Horse requires regular decoration to maintain its beauty and health.
Body-finishing brushes for sensitive areas like feet and mouth, a curl to get rid of loose hair and dirt, and to further loosen hair, mud, and dirt, you need to use standard horse grooming tools.
Use a knife, or a shading blade to loosen hair from the coat. Also, use one for the tail Removal, or a razor to brush and straw tail and hoof of the calf and horse.
More Interesting Articles