(Last Updated On: October 10, 2021)
The correct riding position on a horse is the foundation of successful riding. There are some horse riding mistakes one must overcome.
It isn't necessarily a terrible thing to make errors. Making horse riding mistakes when learning new abilities is inevitable, and they frequently lead us down more acceptable pathways. However, there are errors and then there are Mistakes in equestrian riding.
These are the kinds of horse riding mistakes that result in more pain than reward. The ones where you don't have to recreate the wheel yourself in order to learn from them. The Mistakes you'd like not make, but which regrettably, a lot of people do.
In this article, we will find the horse riding mistakes and ways to overcome them.
Horse Riding Mistakes and How to Fix Them from the Scratch
The following are the top 24 horse riding mistakes to avoid.
1. There Isn't Enough Preparation
The most common horse riding mistake is noticed is a lack of proper groundwork. Riders appear to undertake some groundwork and ground exercises when they first start working with a horse, while the horse and rider are still learning together. However, when they become more experienced riders, they tend to abandon that aspect of their training.
You need to perform some kind of groundwork before riding. It might take anywhere from five to fifteen minutes on the ground before I get into the saddle, depending on the day and the horse. Before you mount him, you ought to go through a checklist that expels the horse's surplus energy and equips me with the tools you'll need.
For example, I'll put on the bridle and grab the reins' end, pulling him approximately 3 feet away from me. I'll concentrate on softening his face and getting his body to operate properly and submit to pressure.
To help in body yielding, I'll use my hand or a training stick. I want to soften the horse up so that he can turn and back up without opposition.
You won't have to go through what appears to be a regular occurrence for some riders: a particularly terrible first 15 or 20 minutes of riding before the horse begins to function well. When you initially get aboard, horses might develop a nasty habit of being goofy and unfocused. With daily pre-ride groundwork, you can remove this chance.
2. Entering the ring with your ego.
The ability to be modest is one of the first things you'll learn from horses. Do yourself and your horse a favor and leave your ego at the gate, whether you're riding in a class, on the trails, or at a show.
Bring a cheerful, eager attitude to the journey. Appreciate your horse, your instructor, and the people in your immediate environment. Appreciate who you are, what you can do on any given day, and how you are improving your talents over time.
Also, keep in mind that each day is only a snapshot of your total riding career. Even if you think you're having a setback, do what you can during the ride, give your horse a well-deserved break, and try again the next day. If you can let things go at key moments, you might be amazed at how far you and your horse can go.
3. Overtraining in a single sport
This horse riding mistake isn't as prevalent as the others, but it still occurs. It occurs when a rider obtains a horse that has been trained in a certain discipline, and the rider focuses only on that discipline with the horse. Horses become tired of it. Surprisingly, cross-training will help you optimize your specialization.
While you're working with your horse on one thing, keep in mind how the ability may be applied to something other. A straight approach, for example, is just as important for a turnaround or a lead change as it is for crossing a bridge.
While you're working with your horse on one thing, keep in mind how the ability may be applied to something other. A straight approach, for example, is just as important for a turnaround or a lead change as it is for crossing a bridge.
4. Failure to set objectives.
You can't expect to make progress by doing the same thing every day. Make sure your objectives are broken down sufficiently to be practical and feasible for both you and your horse when you establish them.
Your goals should represent both your and your horse's requirements because you and your horse are a partnership. Plan to create your most pressing "need of the moment," whether it's for yourself or for your horse. Follow a methodical approach to skill development and take modest actions each day to improve your abilities.
5. Tireless effort
In equestrian riding, there is such a thing. You can get caught in a do-it-until-you-get-it trap if you get worked up enough. Horses are frequently caught up in this dilemma as well because their riders are unable to recognize when it is time to stop.
Trying and trying again is one thing. It's one thing to blindly repeat the same action when nothing appears to be going your way. If you aren't getting the results you desire after giving it your all, take a break and come back to it later.
6. An Unpredictable Riding Schedule
Here's an example of a typical blunder. Someone purchases a well-kept horse. The horse has been in a structured training program, similar to that of a university student who attends class every day and completes his coursework. The student may receive weekends off or a holiday once in a while, but just for a day or two at a time.
The new owner believes the horse will be OK with only one or two rides per week, which is often all the time the rider has available. It may go well for a time, but the horse will ultimately stop performing at its best. For schoolchildren, it's like summer vacation—the horse loses his or her discipline.
Whether it's groundwork or something smaller, horses require discipline. Make an effort to be as consistent as possible. I understand that we all have jobs and situations that prevent us from getting out every day. I'm the same way. I'm frequently on the road for clinics. But, just like in school, your horse needs to have that daily instruction as much as possible.
Things will be so much better once he gets into that rhythm. Your horse will be concentrated, learning, and training.
Taking intentional time off is not the same as what I'm talking about here. There are times in my program when we will send horses out and leave them alone for a month or more. They'll be back in school after they've been ridden again.
Make sure your horse knows he's at school by making sure he learns something that day, whether it's three days a week, five or six days a week, or even two days a week. One thing I've learned over the years is that if you don't teach the horse the correct behavior, he will learn the incorrect behavior. That's the way it works.
7. Leg braces
Many first-time horse riders ride with their legs supported. They do it primarily because they are scared and believe it will help them hang on longer. You should avoid bracing your legs since it will lead you to fall back in the saddle, behind the horse's movement.
You lose your balance and send more bounce and shock of motion into your and your horse's lower back, creating long-term discomfort. Your legs, above all, serve as shock absorbers.
Riding with your legs and knees braced implies you won't be able to absorb as much shock as if they were bent. As a result, you're shaky in the saddle.
Simply relax your legs, bend your knees, and point your toes upwards to avoid this. It will gradually become more normal, and you will feel more at ease and steady.
8. Grasping the saddle with your legs
Another typical blunder is holding the saddle with your legs in it. This generally occurs when the rider is attempting to "hold on" with his or her legs. For most novice horse riders, it is a natural instinct.
You may lift yourself up and out of the saddle by gripping your thighs, calves, or both. This puts you in a situation where your leg aids are more likely to fail, and you are unable to communicate with your horse using your weight aids as a result.
One of the most common methods to communicate with your horse is to use your weight and seat bones.
To begin, relax your legs and focus on strengthening your core and having your core support you more. When it's suitable, make sure your seat bones are in touch with the saddle at all times.
9. Close-mindedness
Despite the fact that there are three recognized Olympic equestrian sports (jumping, eventing, and dressage), you may visit your local agricultural society to observe how many various riding styles exist in your neighborhood. When you consider the variety of horse-related activities available across the world, it's difficult to include them all on one page.
Each profession has its unique approach to teaching, learning, training, and performance. While the horse is the constant denominator in all of them, there are several cross-discipline takeaways that may meet your requirements in your own riding style.
Maintain an open mind and a willingness to "listen" to others, as well as an appreciation for different riding styles.
10. Paying attention to everyone.
The opposite extreme, on the other hand, is to pay attention to everyone. If you've done anything similar before, you know how easy it is to be lost in the mix of views, especially when you're new to the equestrian business.
For the same problem, you can discover entirely different techniques and recommendations! What should I do?
Once you've figured out your riding style, choose a trustworthy coach or mentor and stick with them for a while. Learn one system thoroughly. When the system fails to achieve your objectives, it's time to move on. Otherwise, give it your all and stick with it.
11. Forward leaning
Leaning forward is one of the fairly typical horse riding mistakes done by inexperienced horse riders. Riders frequently lean forward because of fear or nervousness, as well as a lack of core strength. Leaning forward gives you a sense of security and makes you think you'll stay in the saddle longer, but it really has the opposite effect.
When you lean forward, you take your seat out of the saddle, making it more likely that your horse may spook or shy away from anything, causing you to tumble over.
Sitting in the proper posture helps you to feel safer in the saddle if your horse becomes frightened, as well as seeing out in front of you and communicating with your horse more clearly with your seat and legs for a more successful ride.
12. Just the Face Steering
It's a mistake to steer a horse by simply using the reins to control its head.
Instead, use the outer leg and rein to guide what's under the saddle horn—the feet—from the outside to the inside. If I wish to steer to the right, for example, I use my left leg and rein to pull my horse in the desired direction.
I teach him shape and posture with my inner rein, but the direction is established with the outer rein and leg.
When steering your horse, guide his body using your legs rather than simply his face with your hands.
Don't expect your horse to learn anything if you're too preoccupied with your own education. A well-planned vacation is good, but once he returns to work, maintains his riding routine.
The hood ornament is the nose, not the steering wheel. Even after you've pulled the inside rein all the way around to your knee, a horse can still move ahead without turning. That's why you should think of the steering mechanism as the front feet beneath the horn, and the brake and motor as the rear feet.
If your saddle horn is pointing east and you want to move north, push your front feet in that direction. You may modify the direction of the horse by changing the direction in which the saddle horn is pointed.
13. Holding the reins wrongly
The upper body might be negatively affected if the reins are held improperly. Riding with your palms or fists pointing upwards and your elbows out is an example of an improper stance. With your thumbs pointing up and your wrists slightly in, you should always try to ride in the right position.
Riding with your thumbs up helps the upper body stay in better balance by keeping the shoulder blades relaxed and down. When utilizing the reins, this provides for more clear communication. Consider it as though you were holding an ice cream cone in each hand.
14. Arms that are straight
Another typical issue is riding with straight arms. If you don't have the shoulder strength to open the collarbone, allow the shoulder blades descend, and bend the elbows, this might happen.
The rider is frequently concerned that they will be tugging on the animal. As a result, they strive to straighten their arms to offer them more control. Your arms will have less give if you ride with straight arms.
Riding with your thumbs up keeps your shoulder blades relaxed and down, which helps your upper body stay balanced. When utilizing the reins, this makes it easier to communicate. Consider how you'd feel if you had an ice cream cone in each hand.
15. Arms should be straight
Another extremely typical problem is riding with straight arms. If you don't have the shoulder strength to open the collarbone, allow the shoulder blades to descend, and bend the elbows, this can happen.
The rider may be concerned that they may tug on the horse in some circumstances. As a result, they straighten their arms in an attempt to offer more control. Your arms will have less give if you ride with your arms straight.
Instead, focus on engaging your core all the way to your lower back and coming to a halt in your seat. You'll eventually be able to stop simply by adjusting your weight in the saddle and releasing the reins.
16. Turning the horse by pulling on the reins
You should avoid tugging on the reins if at all possible. When you do this, you'll find yourself leaning in the direction you want to go. This, on the other hand, makes it more difficult for the horse to turn and causes you to tumble forward. As a result, you'll be off-balance, and if the horse spooks, you'll be more likely to tumble off.
Instead, focus on activating your core from your lower back to your seat and stopping there. You'll eventually be able to come to a halt just by shifting your weight in the saddle and releasing the reins.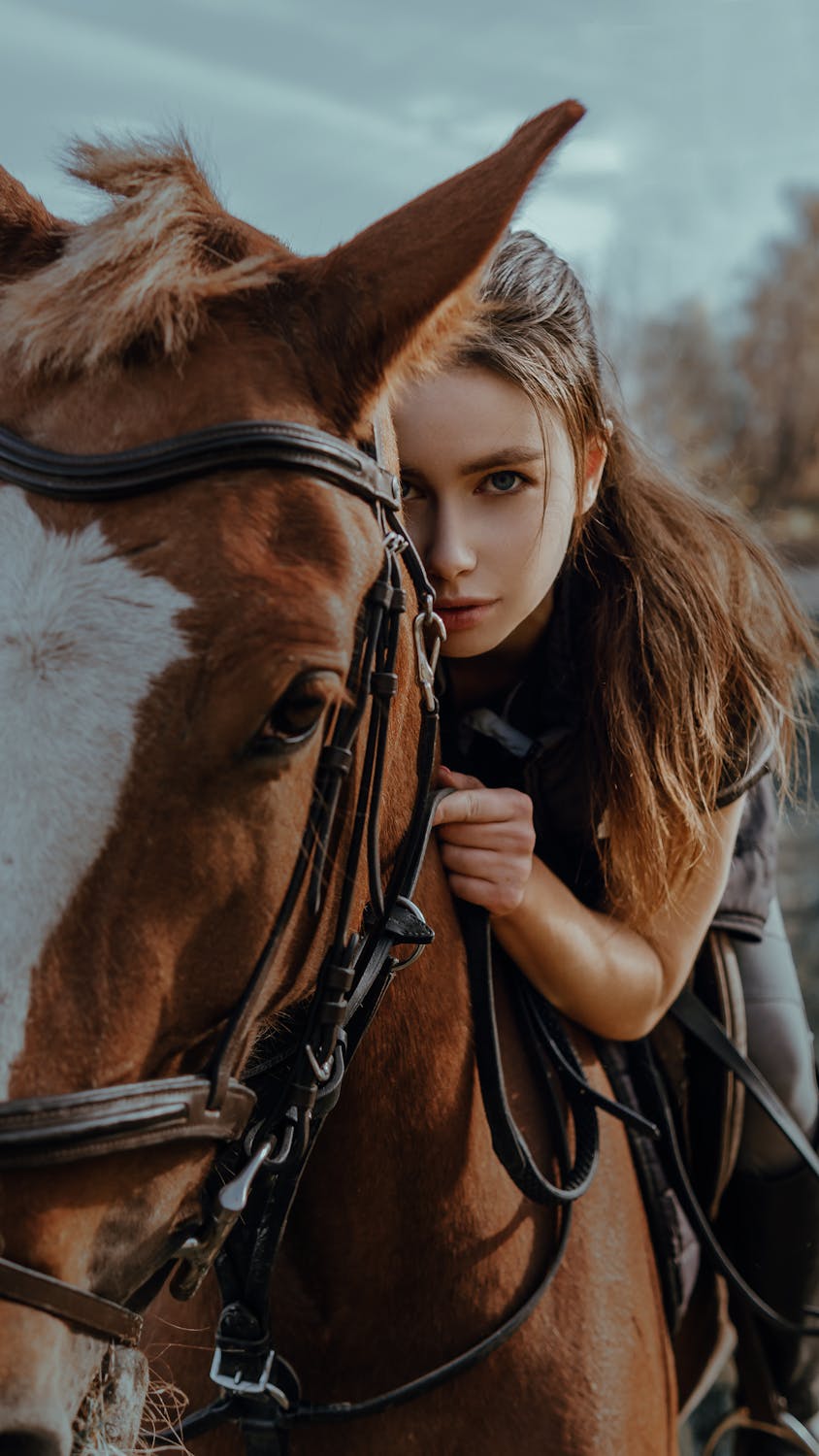 17. Turning the horse around by pulling on the reins
If at all possible, resist tugging on the reins. You'll end up leaning in the direction you want to go if you do it this way. This, however, makes it more difficult for the horse to turn, and you will tumble forward as a result. As a result, you'll lose your balance, and you'll be more likely to tumble off if the horse spooks.
Include some groundwork in every ride or training session to remind your horse to pay attention and heed directions.
When teaching your horse a new maneuver, don't allow him too much rein slack and therefore too much tolerance for horse riding mistakes.
My rule of thumb is to never ask a horse a question you don't know the answer to. Make sure you know what you want your horse to do before you ask him to do something or try to teach him something new.
Begin with close touch and a little amount of space for your horse. This allows you to reprimand him immediately away if he makes a bad decision, while still giving him a chance to succeed.
Don't give him too much room, either in terms of rein length or arena size, or he'll fail as a part of common horse riding mistakes.
18. Downward pointing toes
One of the most common mistakes beginning horse riders make is riding with their toes pointed down. It frequently occurs as a result of the rider attempting to hang on, but this results in a rearward effect. If your toes are pointing down, you will rock forward in the saddle and, if the horse spooks, you will be more likely to fall off as a result of being imbalanced.
Instead, concentrate on keeping your toes pointed up and straight forward, your heels down, and a long leg.
This will help you stay more comfortable in the saddle, and if your horse spooks, you'll be able to fall back into it rather than swaying forward.
19. Incorrect foot posture in the stirrup
This is a simple horse-riding mistake to make, and you may not even realize it. Some riders ride with their toes on the bar of the stirrup iron because they are scared of getting their foot trapped in the stirrup if they fall off.
Others ride with their foot in the stirrup iron too far, at the arch or bridge of the foot. When they lose stability in their lower leg, causing the foot to slide, they do this to feel more secure.
The right position is to place the ball of the foot on the stirrup iron's bar. This will provide the maximum support all the way up to your pelvis, as well as keeping you balanced with sturdy legs and a quiet seat.
20. Using the Word "Whoa"
The term "whoa" means "halt," and it's a command that has to be learned. I see riders who utilize the verbal cue on horses that have no idea what it implies all the time.
The rider usually pulls back on the reins because he believes the response should have been instinctive, and the horse develops a negative connection with the term as a result.
When he hears it, the rider begins to pull and pick at him for reasons he doesn't comprehend.
If this is your circumstance, you should focus on manual and automatic transitions. Consider the difference between manual and automatic gearboxes in a vehicle or truck.
Make sure your horse understands the apparent signs before depending only on subtle hints. When it comes to halting, "manual" indicates that you start by tugging on the reins.
You repeat the process over and over. When the horse has mastered the manual cue, you may concentrate on the cue association that will lead to "automatic." The last component, not the first, is "Whoa" without rein contact.
On that point, "whoa" does not imply that you should slow down. It doesn't mean you should stop prancing. It implies coming to a standstill. Use it only when you want the horse to come to a complete halt.
The word "whoa" is essentially a reward since it allows your horse to stop working once he knows the verbal signal and uses it appropriately. It is, without a doubt, a command that should not be disregarded, which is why we only add it after the horse has already learned to halt. Once you start using that term, you don't want your horse to disregard it.
21. Riding horses that are too difficult for you.
Many of us have experienced this at some point in our lives. Horses come in a variety of characteristics, and some are more difficult to ride than others.
When considering whether to lease or buy a horse, be honest about your skill level. If you're a beginning rider, look for a horse that has more training than you. Only consider less experienced or younger horses if you have access to a professional or have already apprenticed under a more experienced rider or teacher.
If you are scared by the horse, neither you nor the horse will benefit with horse riding mistakes. When the horse and rider's aptitude levels are mismatched, many tragic incidents occur.
22. I'm not taking any classes.
This is something I've talked about a lot. There is no substitute for lessons for horse riding mistakes.
Even the finest riders require "eyes on the ground" to provide them with accurate feedback. What you think is going on and what is really going on don't always line up, and seeking expert help is the fastest way to improve – for the benefit of your horse!
23. Taking a 'chair seat' ride
Consider yourself a floppy sack of potatoes riding in a chair seat. If you lack the physical power to sit up straight, you may be riding like this, but don't worry; it will come with time.
You could be riding this way if you're having problems balancing or if you're too relaxed and haven't been adequately schooled on the significance of sitting in excellent posture while in the saddle.
As a result, sitting like this adds a lot of extra weight to the horse's back, as well as more strain on your own spine and lower back, potentially causing back and knee difficulties for both you and the horse down the road.
You want to make sure you're sitting in the right position, with your core as your major source of support, and that you're maintaining a good aerobic frame. Your back and the horses' backs will both benefit from absorbing the impact of motion via your core.
A straight line from your heel to your hip, up to your shoulder and ear is a solid general rule to follow. The other is to maintain a straight line from your elbow to your wrist and from your lips to the horse's mouth.
24. Fear of making horse riding mistakes
Have you ever experienced something similar? Everything seemed to be going swimmingly until your instructor encouraged you to try a new activity. You went from being on top of things to feel like you'd lost everything you'd fought so hard for in one short session.
The problem is that in our quest for perfection, we may neglect to attempt new and unusual things that might lead to the development of new talents. Trying anything new might often feel more like a setback than a step forward. Perhaps you lose a part of your job or your aids. Perhaps your horse's back feels stiffer or more braced.
Don't lose hope if you feel like everything you've fought for has just crumbled. It's only terrible if you allow a learning curve to drag you down on a regular basis, and riding badly becomes a habit.
However, if you're in the middle of a learning phase, it could be just what you need to bring everything back together – better! There is no end to learning from horse riding mistakes.
More Interesting Articles
Tags
horse riders
horse and rider
equestrian rider
learn horse riding
equestrian horse riding
horse riding position
horse with rider
to ride a horse
best beginner horse
horse spook
horse riding for beginners
the horse rider
ride the horse
horse riding saddle
horse top
do horse riding
best horse for riding
posting horse riding
horse riding horse
horses for riding
i ride a horse
best horse rider
correct horse riding position
horses to ride
ride in horse
beginner horse
horses that you can ride
the horse riding
saddle riding
a horse rider
the horse and rider
beginner rider
horse riding legs
and rider
ride by horse
riding leg
correct lower leg position horse riding
about horse riding
top equestrian riders
learning about horses for beginners
rider and horse
best equestrian
i do horse riding
saddle horse riding
ride your horse
do you ride horses
top horse riders
riding horse riding
riding a horse for beginners
the riding horse
i ride horse
saddle for horse riding
to do horse riding
correct riding position on a horse
the rider saddle
best saddle for beginner rider
a riding horse
learn about horses and riding
the best horse rider
horses with riders
to ride horse
all about horse riding
ride this horse
riding in a horse
learn equestrian
beginner equestrian
top equestrian