(Last Updated On: April 15, 2021)
Male or female Masai giraffe, scientific name Giraffa camelopardalis tippelskirchii, has two unique, hair-covered horns named ossicones. The other name of this species is the Kilimanjaro Giraffe which is the largest subspecies of nine subspecies of the giraffe family.
The International Union for Nature (IUCN) announced that the Masai giraffe spread across Kenya and Tanzania, are now significantly endangered by hunting, predator, pouching, lack of food, and land changes.
Masai Giraffe profile
In this article, I will discuss the Masai giraffe profile.
Distribution
Masai giraffe lives all over Africa, however, losing habitats and forests, they are mostly found only in Savannah of Kenya, Ethiopia, Somalia, and Tanzania.
Description
The Masai giraffe is the largest bodied giraffe species, known as the longest land animal on earth.
Masai giraffes can be distinguished from reticulated giraffes because they have stained spots instead of pigmented spots in the polygonal liver of the whole body.
The size of male and female is not the same. Male is larger than the female in weight, height, and size. Male Masai giraffe grows up to 19 feet (5.5 meters) and females to 16 feet (4.8 meters) high.
The weight of males is 2475 – 4275 pounds (1100 – 1900 kilograms) and whereas the female is 1575 – 2700 pounds (700 – 1200 kg). The tongue of the Masai giraffe is very long in order that they can pull the tree and eat its leave at a longer distance.
Masai Giraffe has a small hump on its back and has a spotted pattern similar to that of a leopard.
For this similar oof the body coat, people called the giraffe a "camel-leopard" because they believed that it was a combination of the leopard, though they are a notorious enemy for the giraffe.
Masai giraffe's tongue is 18 inches in length and their lips are long and sticky. Masai giraffes can sprint up to 35 miles per hour, though it's not enough to supersede faster predators like a cheetah.
The female is more beautiful than the male. A female Masai giraffe has thick head hair, however, a male Masai giraffe is bald on top.
Both males and female Masai giraffes have skin-covered horns called ossicones.
Masai Giraffes have the usual long legs and a long neck with special valves used to control the flow of blood to the whole body.
The eyes of the giraffe are the size of golf balls and can look for a long.
The feet of the Masai giraffe is the size of a dinner plate, around 12 inches in diameter.
Behavior
Masai giraffe is a calm, cool, and timid mammal. In most of the case, they are not aggressive.
The only aggression they show when they are feared, or fight with another giraffe in order to keep control over the territory.
Masai giraffe does not sleep most of the time. They only need 5 – 30 minutes of sleep every day. Sometimes they have some naps, that last only a minute or two at a time in the jungle.
The Masai Giraffes can moo, hiss, roar, and whistle to express their emotion and communication in need. They are social mammals.
Most of the time the Masai Giraffes take rest stand on foot, however, they also lie down with their head resting on their rump sometimes.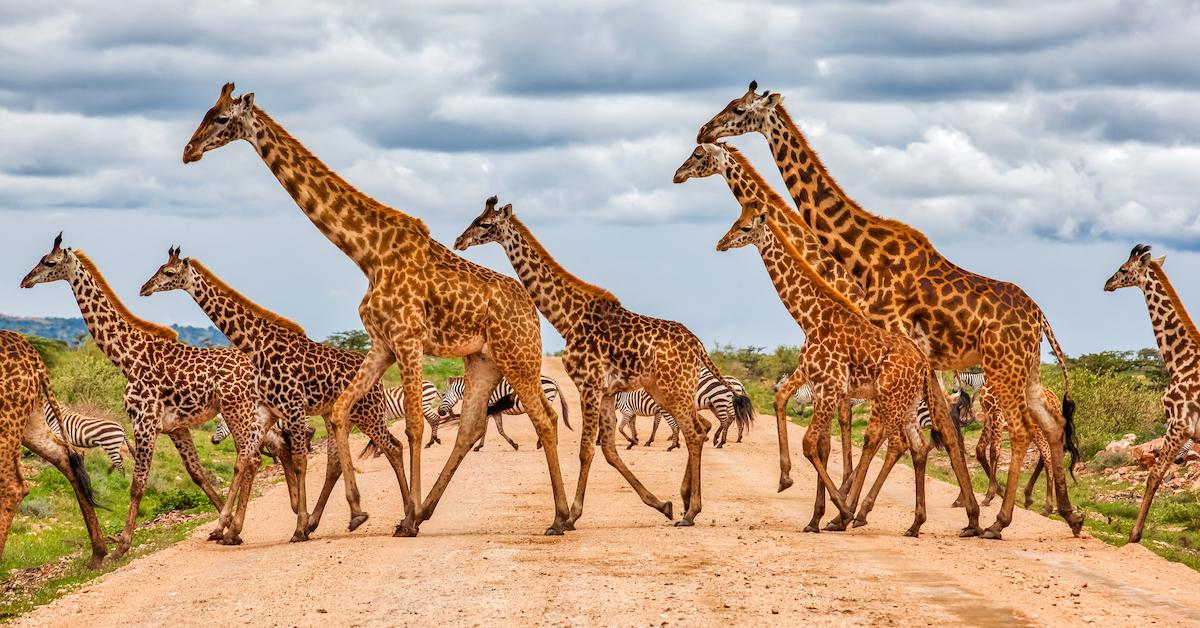 Characteristics of Masai Giraffe
The head of a female Masai giraffe is thicker, but the male Masai giraffe stays on top. Both male and female
Masai giraffes have wrinkled horns on the skin Ossicons called Masai giraffe's head is used with a common long leg and a long neck special valve used to control blood flow.
The Masai giraffes coat is iridescent in irregular star-shaped patches and the calf is below the knee.
Like all giraffes, coat stains act like human fingerprints, no two patterns are the same, and they can be used to identify a person.
Body Coats
In fact, different coat patterns in every species distinguish each subspecies primarily from one another.
Masai Giraffes coat is covered in irregular star-shaped patches and is buff-colored below the knee.
As with all giraffes, the spots on the coating act like human fingerprints, no two patterns are the same and they can be used to identify an individual.
The pattern of the Masai giraffes looks like oak leaves, a traditional Kenyan pattern.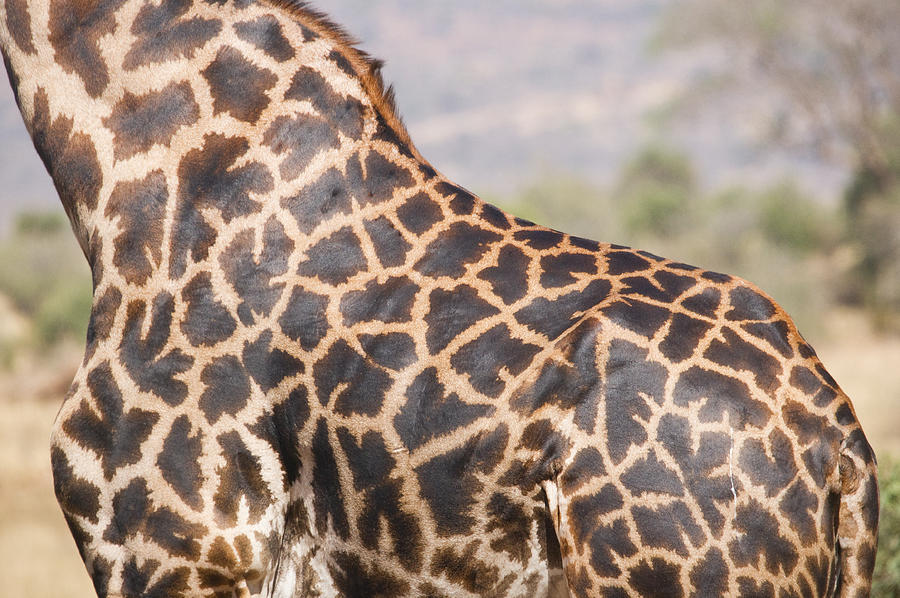 Masai giraffe diet
Masai giraffes are daily and in small groups. Masai giraffes eat almost all day long, about 16 – 20 hours a day.
A Masia Giraffe can feed up to 75 lb of leaves every day.
They browse a long way and take in large quantities of leaves, grass, sprouts, trees like acacia and babla, flowers, fruits, and bark.
Masai giraffe usually feeds on shriveled thorny shrubs to reach the middle of the thorns to lift leaves using long lips and thighs.
The Masai giraffe has a four-chambered stomach and can chew on its own. If fresh plants are available in abundance, they can extract it from their diet without water for several weeks.
Male Masai giraffes eat from the upper branches, females from the lower branches, considering the height of the neck.
Masai giraffe breeding
In order to continue the generation, the Masai giraffe undergoes reproduction. There is no seasonal breeding season for giraffes.
Females are matured earlier than the males, females get matured during 3 – 4 years of age, whereas the age of males maturity is 4 – 5 years
The gestation period is 15 months.
The number of young at birth is usually one, twins are uncommon but do occur in some cases.
About 50 to 75% of calves die due to predators in their first few months. A single calf is born after a gestation period of 14 – 15 months.
The calf is 6 feet tall at birth and grows rapidly. In the first month of its life, she lives with her mother.
After this time it will join a group of calves and a 'baby' cow will look after it.
The calf will be in this nursery for one year.
Masai giraffes have a life expectancy of 25 to 30 years in human care.
The lifespan is comparatively low in the wild due to the predators' attack, its 12-15 years.
Masai Giraffe Predators
Among the predators and enemies of the Masai Giraffe, we many name lions, hyenas, tigers, leopards, cheetah, and wild dogs. Their only defense is their speed and their powerful kick which can obliterate the Lion and, in some cases, shatter it.
How many Masai giraffes are there?
According to the study, currently, there are as many as 35,000 Masai giraffes left in the wild.
The most alarming stat is that the number of Masai Giraffe population has declined by approximately 50 % during the last 3 decades.
Over the same time-frame, Africa's overall giraffe population has dropped by 40 percent.
Threats
Giraffe hunting is illegal in both Kenya and Tanzania, but they are exposed to their hide, flesh, bones, and tail.
The IUCN says an estimated 2 to 10 percent of people are illegally hunted each year at Serengeti National Park in Tanzania.
Citizens' instability for parts of the giraffe, including tail-hair jewelry and bone engraving, has increased.
As a common belief, some people explore bone marrow and brain in order to cure HIV and AIDS, according to the Tanzanian media.
Giraffe deaths have also increased as human populations have grown and expanded as wildlife, leading to increased crop loss and vehicular injury.
Hunting for bushmeat is also a threat to the giraffe to grow.
Conservation
Masai giraffes are considered endangered by the ISECN and Masai giraffe populations have declined in recent decades due to poaching and declining habitat.
Studies of populations living in and out of protected areas of the wild giraffe prove that predation is the primary effect of lower survival of older adults outside protected areas, and of lower calf survival in protected areas due to predation.
The survival of the giraffe calves is influenced by the season of the birth and the absence of seasonal local presence or the absence of long-distance migratory animals in the wild beast and zebra.
Other Recommended Articles