(Last Updated On: October 10, 2021)
What are the most common cat allergies? Allergies are a frequent health concern in cats, just as they are in humans. It's odd that we're often concerned about people being allergic to cats, but we seldom hear about what cats are allergic to!
Cats and humans aren't that dissimilar in this regard. Some foreign substance, commonly referred to as an allergen or antigen, causes the cat's immune system to go into overdrive, resulting in allergic symptoms.
Most common cat allergies
Itchy skin, coughing and/or sneezing in the event of a respiratory issue, or vomiting or diarrhea in the case of a digestive allergy are all frequent signs that a cat is allergic to anything.
Cat allergies appear to fall into three broad groups. Allergies to fleas, foods, inhaled substances, or whatever else they've come into touch with most common cat allergies.
Contact allergies usually cause a cutaneous response that is quite localized. The cat may scratch excessively and/or show signs of irritation at the point of contact. Items with which cats come into close touches, such as flea collars, bedding, toys, and so on, are the most prevalent causes of contact allergy in cats.
The most straightforward treatment is to remove the contact. For example, remove the collar or replace the bedding. Consult your veterinarian if the discomfort persists or if you still require effective flea treatment.
Certain plastics and/or metals may cause allergic responses in certain cats. If you believe your cat is suffering from this, consider switching to a ceramic or glass food bowl.
Another issue that may appear to be a contact allergy is if you do not thoroughly rinse your cat after it has been bathed. Dermatitis can be caused by residual shampoo or detergent on the skin, which might be misinterpreted as an allergic response.
Contact allergies in cats are, thankfully, the rarest, unlike the most common cat allergies.
Cats, on the other hand, are prone to flea allergies. Flea bites will irritate any normal cat, but a cat with a true flea allergy will have a far more intense itching reaction to the flea's saliva.
A typical cat would bite or scratch for a few moments before moving on, but a flea-allergic cat will scratch, chew, and worry at the place until huge quantities of fur are lost. This continual effort to alleviate the vexing itch or discomfort may result in open sores, which can add infection risk to the allergy's list of woes.
The most likely location to be impacted in most cats is right before the tail on the back. On the neck and head, the cat may also leave sores or scabs.
Cat allergies to inhalants (atopy) are much more frequent than flea and contact allergies! In fact, this is most likely the most frequent allergic reaction in cats. It's conceivable that your cat is allergic to the same things you are!
Pollens from trees, grasses, and weeds, as well as the rest of the things that humans fear, such as mold, mildew, dust mites, and dust itself, may all cause allergic responses in cats and the humans who care for them.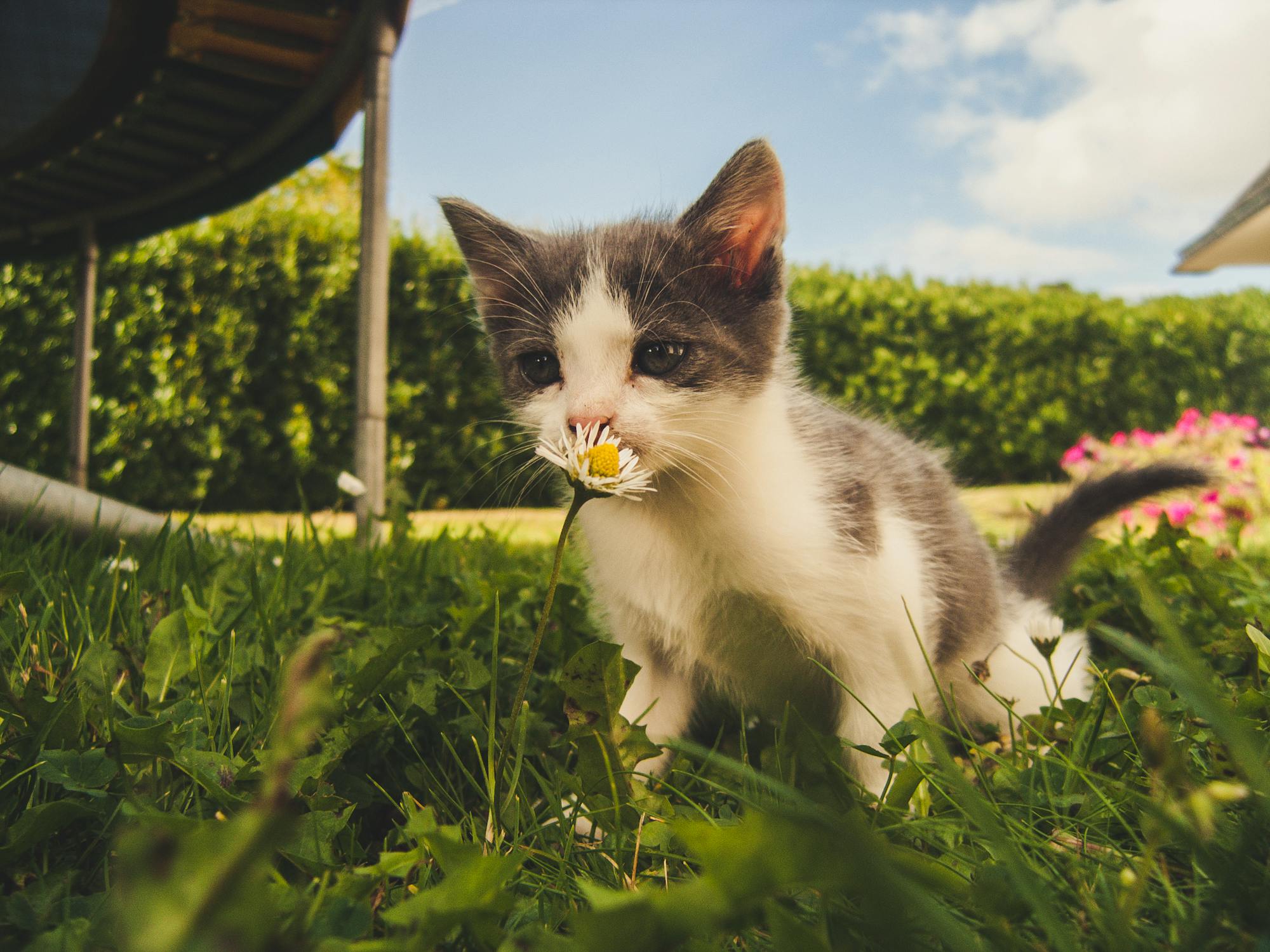 A significant difference between humans and cats is that, whereas people are more likely to sneeze or cough in response to inhaled allergens, cats are more likely to scratch an itch induced by the same allergens.
In contrast to a contact allergy, the cat's reaction to inhaled allergens is a widespread itching of the skin rather than a strong reaction in one place. If your cat appears to be scratching a lot and it isn't localized, such as in response to a flea collar, there's a strong possibility he or she is having an allergic reaction to something inhaled.
True food allergies in cats, as in humans, can be difficult to diagnose. One reason is that they exhibit many of the same distressing symptoms as the other categories. Cats with true food allergies may have itchiness and/or breathing issues. True food allergies, as well as other diseases or harmful chemicals, can induce stomach problems.
Food allergies in cats are typically not present at birth but develop after prolonged exposure to foods that have been consumed. The most frequent food allergies in cats are to proteins found in their diets, such as beef, pig, chicken, or lamb for the most common cat allergies.
Changing to a different type of meal and removing that sort of protein typically solves the problem.
When a cat owner notices indications that lead them to suspect their cat has an allergy, there are two tough points to navigate.
1. The cat might be responding to something other than an allergy, such as an irritant.
2. The symptoms might be the consequence of another, perhaps more severe illness.
A flea infestation, for example, may result in flea bites that itch and drive the cat to scratch. This is very normal. If fleas were feasting on you, you'd itch too, and a lot! If your cat is allergic to the flea's saliva, though, they may inflict harm on themselves in an attempt to ease the itching.
However, as previously said, the itch might be the consequence of a food allergy, a contact allergy, or an undetected medical condition such as a fungal infection (such as ringworm), mange, or another form of skin infection caused by bacteria.
Take to Vet
While a little observant detective work on the part of the pet owner can frequently solve the problem, only the veterinarian can determine for sure what the source and effect are…and how to best deal with the condition.
The vet, on the other hand, does not live with your cat, so take detailed notes on the symptoms, when they first appeared, how they developed, what steps you've previously taken, and what transpired as a result of those steps.
All of this information will aid your veterinarian in determining the cause of your cat's apparent allergy. Your cat's veterinarian will also have diagnostic instruments at his or her disposal in order to figure out what's causing your pet's "allergic" responses.
More Interesting Articles