(Last Updated On: October 10, 2021)
Nez Perce is an American, stalked horse breed that originated from the Nez Perce tribe in Idaho, and thus the name is originated. It has a close similarity with Appaloosa and Akhal-Teke breeds.
This horse breed is popular in the tribe and gained a reputation for its traits, temperament, utility, and several other aspects. The Nez Perce Horse Registry (NPHR) has accreditated this horse for meeting up the standard.
Nez Perce Horse Origin
The Nez Perce (pronounced Nez purse) used to live in the stiff land. There were a lot of challenges as the roads were not smooth.
These Native Americans used lived in the northwestern United States and felt the urgency of horses to make their life easier.
Therefore this breed soon turned very crucial to the Nez Perce. They find it much comfortable and time-saving to move around on horses, instead of going everywhere on foot. In fact, this horse breed turned a determinant of the riches and success of the people who had these horses.
Soon, this breed became too good to ride and breed more horses. It was certain that the high quality, loyalty, strength, stress-taking ability, and beautiful horses with amazing coat colors, spots, and patterns turned a reliable companion for the tribe.
Development
Due to its popularity, quality, loyalty, and performance, thousands of this breed spread widely and quite quickly across the rich Palouse grasslands.
In no time, the breed became famous and demand by other tribes, horse owners, the business classes, travelers, as well as explorers.
Breeding
The Nez Perce Horse is not a pure horse, rather, it's a cross between two other popular and quality breeds, the Appaloosa and the Akhal-Teke.
In fact, the vigor and talents of these two breeds are genetically transmitted in the Nez Perse horse.
The Nez Perce breed is a "gaited" horse, that has a smooth, flexible, confident but fast running walk, as well as performs excellently in long rides, jumping, and any other hectic race or competitions.
Nez Perce Horse Behavior
The horse is multi-talented. For a long, the horse is used to with different jobs for the ancient people, who led a life in hardship and challenges.
During those days, the horse was their trusted companion and helped to ease the life of the people with its multi-talented skills.
The horse is quite amiable. People love this breed because of its gentle behavior. It can be trained very quickly and can establish bonding with the person around it, even with a stranger.
The breed is perfectly loyal and always feels to pay back to its master maximum gratitude and help.
The breed is very intelligent, it can find the hidden stuff by smell. It also can read the environment, sound, smell, and uses its senses in order to decide its action plan. The instant reaction is another sign of its intelligence.
Because of its easily trainable trait, the owner finds it very comfortable and fun.
The horse has drawn attention to its excellent ability to travel or run long distances.
The breed is able to perform very well in a stressful, long-endurance race since it is a good runner and awesome jumper.
The horse is obedient and when the owner treated it well, it shows its generosity, by following instructions properly.
Country of Origin
The country of origin of this breed is the USA, in the Idaho state, during the 19th century by the hand of native Americans called Nez Perce. In fact, the breed was in fact the standard breed of the two other breeds, Appaloosa and the Akhal-Teke
Nez Perce Horse Colors
There are some pattern colors available for the breed. The four most common colors are dun, palomino, buckskin, and bay. There is not that much variety of colors other than these 4. In fact, the breed shows some very limited brand colors.
Nez Perce Horse Feeding/Diet
The horse will e able to feed on a normal horse diet consisting of hay, grass, lentils, grains, beans, vegetables, etc. No other special means are required.
However, to support its nutrition, as well as for any reward, sometimes, fruits like apples will be a very good supplement.
Lifespan/Expectancy
With proper care, sufficient rest, balanced food, and health support the breed can live up to 30-31 years.
Weight
The average weight of an adult is 946.5 pounds
Height (size)
The height of the breed is 15-16 hands on average. Therefore, this is not a big-sized horse.
Health Problems
A healthy breed in general with no breed-specific health issues. However, the masters should ensure maintaining a healthy lifestyle and regular vet checkups from time to time
Movements
The horse can move smoothly, run well, and even walk steadily. It is not so wild and doesn't move unevenly, without any reason. The breed possesses energetic trots with long strides as a typical part of its trait.
Blood Type
By nature, it's cold nature, but biologically the breed is a Warm-blooded horse.
Ancestors (Bloodlines)
This is a hybrid between two other popular breeds, Akhal Teke and Appaloosa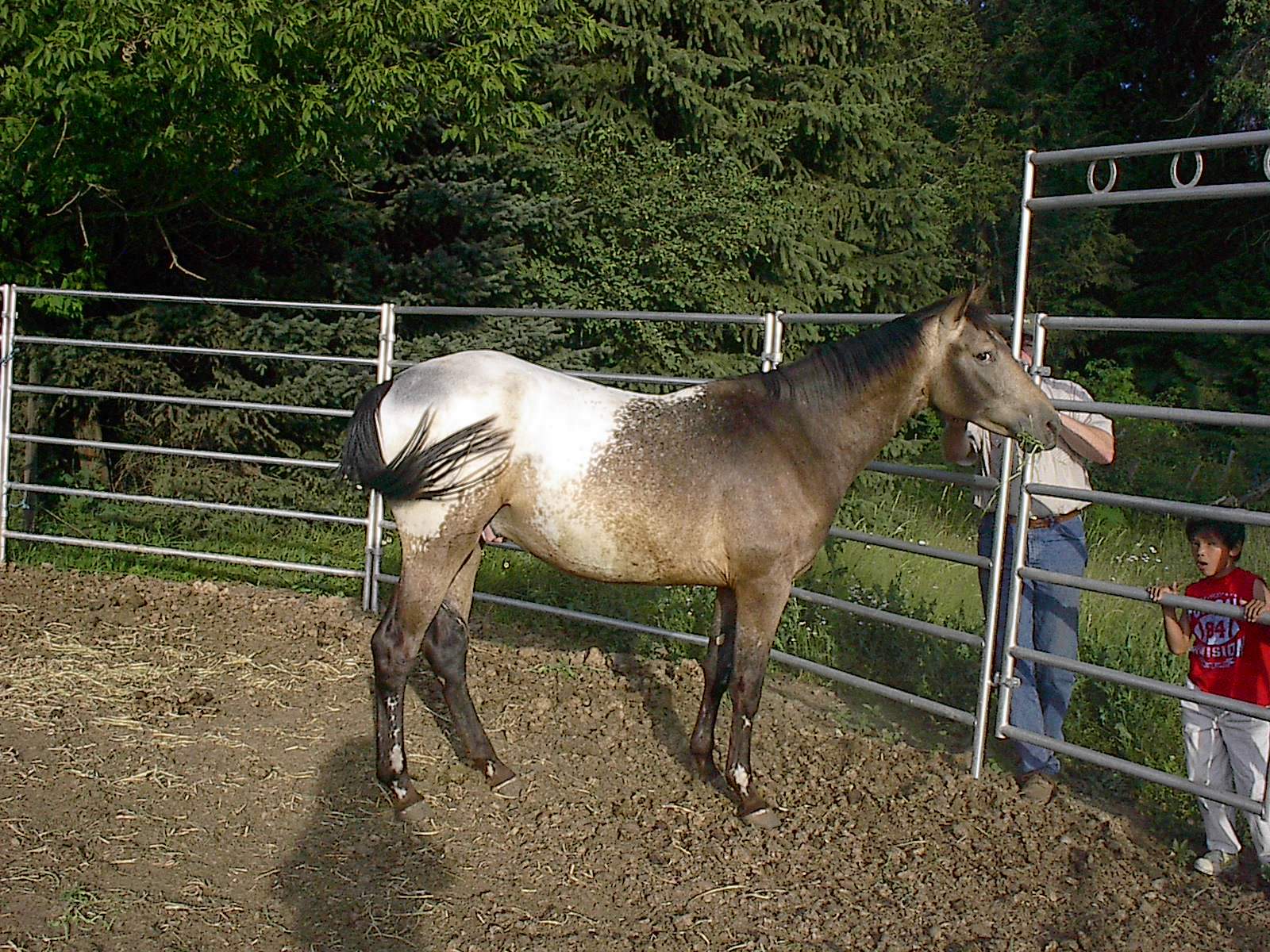 Nez Perce Horse Traits
There are several things to talk about the trails of the breed. They are versatile, people can perform several jobs with the horse. It is strong and hardy and able to take the stress and can run and jump a long way restlessly.
The horse is easily maintainable and will not give the owner many challenges. Rather, the breed leads a simple life with very limited demand.
The breed has an overall well-proportioned, prompt, athletic, and slim build body. This happens in the case of stallions and mares.
It is well set with its gesture and body language, has a thinner, unmoved head with medium-size glary eyes, straight ears, a long neck as well as narrow hindquarters.
The tail of the breed has adequate hair and the mane is not that much dense like other breeds. This cure horse has a narrow and strong rear, loins as well as shoulders.
The longer back than Appaloosa makes this breed quite different. The horse is called a "lean runner" because of its straight, thin body.
The back is quite long compared to the whole body. The runner breed has an overall lean appearance and easy move gestures.
Nez Perce Horse Uses
There are many uses of the breed. In fact, it was first chosen for its manifold utilities. The breed is very good at general riding, dressage, endurance riding, work activities, hunting, and jumping.
People usually pick this horse to perform the said roles, where the breed is quite successful since along.
Moreover, flexibility in training has also improved its utility over time, as the horse learned new skills gradually.
More Interesting Articles