(Last Updated On: October 9, 2021)
What is natural pet food, essential nutrients for cats? Raw, unprocessed food is the first thing that springs to mind. Actually, a cat's natural food is mice and birds, with the occasional squirrel tossed in for good measure. Any of these creatures would give your cat all of the necessary nutrients to live a long and healthy life.
"Natural" in the context of pet food, according to the Pet Food Committee of the AAFCO (American Association of Feed Control Officials), is a food or ingredient produced exclusively from a plant, an animal, or a mined source. It can be consumed raw or prepared through a variety of methods, including cooking.
Essential nutrients for cats
As long as the food has not been exposed to a chemical synthetic procedure and does not include any chemically synthetic additions, it is considered "natural." Chemically manufactured compounds include Propylene Glycol and BHA. Don't you feel a little smarter now?
AAFCO has provided commercial pet food producers recommendations that define the criteria for delivering vitamins and minerals in our dogs' meals. These guidelines do not offer the necessary amount of vitamins and minerals. They just give enough to keep our dogs from being deficient in vitamins and minerals.
In a perfect world, all commercially produced pet food would offer a full and balanced diet for our dogs. Even the highest-quality canned or dry cat food isn't ideal. No matter what the label says, there is no such thing as a 100 percent balanced and complete diet.
Heat is used to process most pet food, and as we all know, heat destroys vitamins and enzymes. Even freeze-dried and frozen pet meals aren't the "ideal diet" to offer your pet.
"If your pet is consuming a healthy balanced diet of good quality food, vitamin supplementation is not essential," according to the ASPCA.
For the most part, I agree the statement is correct; but, in the human world, we strive to eat healthily but still need to take vitamins and supplements to compensate for the processed foods we consume.
So, when it comes to caring for our cats, what is the solution? One thing I know for sure is that as a cat parent, you should never add supplements to your cat's diet without first contacting your veterinarian. The internal system of a cat differs significantly from that of a dog, and many nutrients and/or human medicines can create major issues for a cat.
With vitamins and other supplements, it is quite easy to "overdose" your pet. When in doubt, consult your veterinarian before trying anything new.
The goal of this chapter is not to convert any of you, but to educate and inform you about the various alternatives for feeding your cat. First and foremost, I'll tell you about our three cats and what they consume.
We are extremely open-minded in our family, and we are conscious of the need for excellent nutrition for ourselves. We eat a nutritious diet (with no extremes). Every day, we work and are in excellent health. Our cats are the same way (no, they don't work, but they are in excellent health).
Both our physician and our veterinarian would have been homeless if they had to rely on us for assistance.
Case Studies
Miss Tiger, our 9-year-old cat, eats a variety of canned cat food (no one brand in particular), as well as tiny portions of dry cat food, gently cooked chicken, and lean pork (which must have garlic on it or she won't eat it).
She despises meat, both raw and cooked. She has some milk and cheddar cheese every now and then (which I grate). Tiger has stayed at her current weight for the past six years.
Her teeth are in great condition, with minimal tartar buildup. She receives special treats to assist with hairballs, a cat vitamin twice a week (broken up and put to her diet), and a yearly visit to the vet for immunizations and parasite checks (never had any). Miss Tiger is a cat who lives both indoors and outside.
Our 14-year-old, Boots, eats the same food as Miss Tiger, with the difference that he eats raw meat. He's a lean machine in his own right. His weight is constant, his teeth are flawless, and he is in excellent condition.
I should mention that he's a Tuxedo cat (black and white) with the nicest fur I've ever touched, and he's flea-free for some reason. Some Tuxedo cats, according to what I've read, are like that, and he is one of them. He's an indoor/outdoor cat as well.
Smokey, our eight-year-old, is a complicated character. Smokey was born like way, and we got him when he was around 2 days old. He refused to consume kitten food as soon as he was old enough.
He would consider cooked chicken, but never cat food. Smokey was born with a number of health issues, which is most likely why his mother abandoned him and another littermate who we were unable to save.
He's a Tuxedo cat (black and white) with the nicest fur I've ever touched, and he's flea-free for some reason. Some Tuxedo cats, according to what I've read, are like that, and he's one of them. He, too, is a cat who lives both inside and outside.
Our eight-year-old, Smokey, is a complex individual. We got Smokey when he was about 2 days old, and he was born like way. He refused to consume kitten food after he was old enough to do so.
Cooked chicken would be acceptable, but cat food would be unacceptable. Smokey was born with a variety of medical issues, which is most likely why his mother abandoned him and another littermate who we were unable to save.
A book on natural cat care was sent to me by a cat-loving friend. I'm sorry, but I don't know the title or author of the book because I just took a few pages from it.
There was, however, a recipe for a Vita-Mineral combination that I combined with baby food (sweet potatoes and maize and lamb baby food) and a little water in a kitten bottle and began feeding to Smokey twice a day. Smokey drank this while eating raw meat and grilled chicken.
Slowly but steadily, he began to use his rear legs, which were first unsteady but gradually improved. Smokey is now a lovely, healthy cat that can jump up on the couch or bed (but not much higher, which I don't mind).
What do you think he eats? He's a raw beef cat who also eats cheddar cheese (but only if it's shredded), and he gets a bottle every night. I've changed the formula and now give him a cat vitamin (processed in a tiny coffee grinder) with all the vitamins and minerals a cat need, along with baby sweet potatoes and corn, canned kitten food, and water.
Smokey, like the other two, is an indoor/outdoor cat that is one of the greatest mousers in the area. Because we reside in Florida and have citrus trees and fruit rats, he sends us gifts many times a week (I prefer to think of them as large mice).
Here is the formula for those of you who are interested in the recipe or have a need for something special for your cat. It's similar to constructing a mouse (your cat's favorite meal.)
Vitamin and Mineral Mix for Cats
1 ½ cups of brewer's yeast
¼ kelp powder (We could only find tablets, we ground them)
1 cup lecithin granules
2 cups of wheat bran
2 cups of bone meal, calcium lactate, or calcium gluconate
Essential nutrients for cats recipe
Combine all ingredients and store in an airtight jar with a lid (glass or plastic). Make careful to keep it refrigerated. Twice a day, add a teaspoon of Vita-Mix to your cat's diet. This is incredibly healthy and will benefit your cat much.
Whether you're seeking to supplement a commercial diet or just improve your cat's nutrition, keep in mind that vitamins and minerals work in tandem to aid absorption and digestion. This implies that the vitamins and supplements function together, and taking too much of one while not getting enough of the other might cause issues.
Consult your veterinarian or a pet practitioner before making any changes to your cat's food or adding anything to it. I'm now giving all three cats a Hartz cat vitamin, which has everything a cat need (think of it as a multivitamin for cats). It's easy to get at most grocery shops and pet stores, and it's inexpensive.
Now let's return to my earlier subject about manufactured cat food. We (you and I) give our kitties dry or tinned food every day. For them, we buy the best (we believe). We study labels, watch TV commercials, and consult with our veterinarian. We make every effort to locate a meal that is 100 percent complete and balanced for our dogs.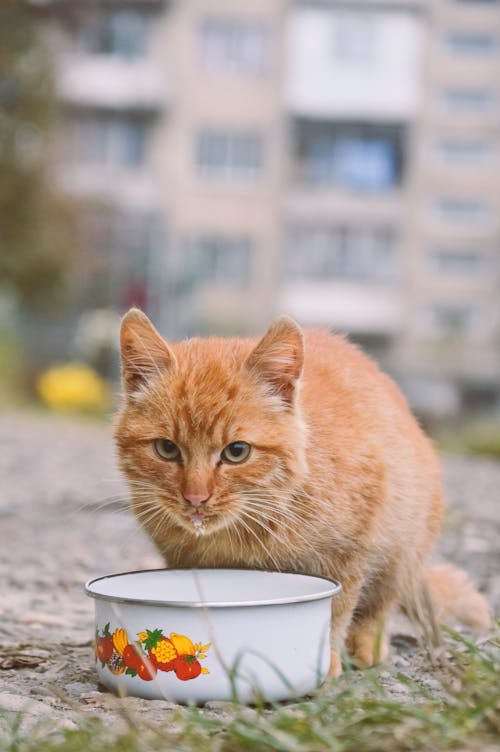 This is where things get complex; consider how "they" know it is 100 percent comprehensive and balanced. There is nothing in this world that is 100 percent comprehensive, especially in the field of nutrition.
Take, for example, dried food. Your cat food has a label that says "complete and balanced." Our cats seem to enjoy dry food since it is so simple and quick to prepare. Consider the following query:
"Why doesn't it get stale?" Could preservatives be the solution? What exactly are they? Dry food is reasonably priced. Why? Is it possible that it's because it's usually made of maize or other grains?
Consider this: how do "they" know it is 100 percent complete and balanced? Nothing in our world is 100 percent complete, especially when it comes to nutrition.
Consider the example of dry food. On your cat's food, you see the words "complete and balanced." Our cats seem to enjoy dry food since it is so easy to prepare and serve. Consider the following question:
"Why doesn't it become old?" Could it be the preservatives? What exactly are these things? The cost of dry food is low. Why? Is it because it's composed mostly of corn or other grains?
It will include more of the nutrients that your pet need, and your pet will be healthier as a result. Keep in mind that cats have a hard time digesting carbohydrates, and too many carbs can lead to diabetes.
Dogs are omnivores, but cats are carnivores (meat-eaters) (meat and plant eaters). Your pet is a member of your family, and a happy pet is one that is healthy.
First and foremost, nutrition is a discipline that is dependent on other sciences such as chemistry, physics, and biology. Have you ever heard a scientist declare that everything in his or her area is 100 percent correct? I haven't done so. Declaring a pet food to be 100 percent this or that is claiming perfection.
Do you think dietitians have accumulated all of this knowledge? I don't think so.
Common judgment is required while feeding your pet (cat or dog). When it comes to feeding your family, you employ common sense. Consider pet food manufacturers: they're in business to sell pet food and, believe it or not, to earn money.
Granted, some businesses strive to create food that satisfies the stringent criteria set out by the AAFCO and other organizations. A portion of commercial pet food may be made by almost anybody, but nutrition is a serious business, and we must be conscious of what our dogs are consuming.
The question is, what are you going to do about it? As I mentioned at the outset, there's a lot to say about feeding your pet (cat or dog), and I, like you, don't have all the answers. I'm going to provide a list of things to look out for when buying processed meals, as well as suggest some "human food" that is really good for your cat.
This isn't the "bible" of pet food. It's just my views and observations from years of working with a variety of animals. Did I mention that we have six children, which gives you an indication of how many pets we've had throughout our lives?
Add in a few baby squirrels, horses, birds, a few fish, and a few resident snakes, and we've lived with a lot of cats and dogs. I now have possums, a raccoon, and a turtle or two as visitors.
Here are a few things to remember:
1. Recognize that most pet meals, even those with high ratings, are cooked and that heating eliminates the majority of the helpful enzymes, vitamins, minerals, and amino acids.
2. Avoid buying commercial pet items that include "animal by-products" since you have no way of knowing what sort of by-products are in them or if they are healthy. Organ meats are permitted.
3. Avoid foods containing artificial colors or preservatives such as propylene glycol, sodium nitrite, BHA, or BHT.
4. Do not treat your cat as if he or she were a tiny dog. Cats require protein, namely taurine, which is essential for their vision, cardiovascular system, and reproductive system.
5. Cats have odd eating habits; ours like to nibble often throughout the day, while others like to be fed in the morning and evening. If you give cats a chance, they will adjust to your routine.
6. Just a gentle reminder that cats are carnivores and will benefit from a diet rich in fresh meat. As a result, cats require a high-protein, low-fat diet. Cats don't care for veggies, but a handful does appreciate a bite or two of maize and other vegetables.
Our cats are an excellent example of good health; we combine processed meals with raw, and Miss Tiger's diet is mildly cooked because she does not enjoy raw meat as much as the males do. Miss Tiger and Boots get a cat multivitamin twice a week, whereas Smokey gets one every day in his bottle because his diet is almost entirely absent of cat-friendly foods.
Although meat and cheese are excellent additions to a cat's diet, they do not supply all of the elements required for good health.
If you feel compelled to cook for your cat, there are many excellent recipes for gourmet cat foods available on the Internet. All of these foods are nutritious and will make your pet happy while also making you feel wonderful.
Home-cooked meals are excellent for your cat, but you won't be delivering all of the nutrients he or she needs to be healthy. The body of a cat is unique, and it requires nutrients in certain quantities that we, as pet owners, are unable to give.
So offer your cat home-cooked goodies now and then, but for the most part, stick to your vet's recommendations for your cat's diet.
When it comes to feeding your dogs, use your common sense; doing things in moderation never hurts anyone, and variety is the spice of life. You love trying new foods and going on new activities, and your dogs might as well as the essential nutrients for cats.
More Interesting Articles